Risky Business: Square-Rigged Ships and Salted Fish
View some highlights from our 2019-2020 exhibit with this virtual tour. Click on the right arrow to begin the exhibit. For best viewing, click the

to the right of the page numbers at the bottom of the slideshow to view in full screen, which is best viewed on PCs, Macs and iPads.  Please note that full screen mode may be limited on iphones.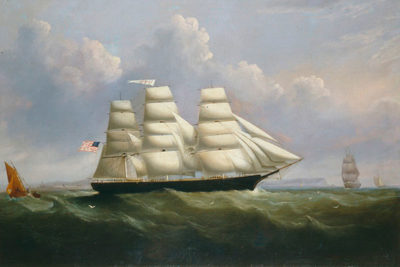 With its 2020-2021 special exhibit, the Castine Historical Society invites visitors to step back in time to the 1800s when Castine's working waterfront thrived on a global market. Shipyards and a dozen active wharves stood along a half mile Castine Harbor. Chandleries and sailmakers on Water and Sea Streets outfitted schooners and square-riggers amidst the smell of tar and fish and wood.
Castine merchants and shipowners ran an effective and largely self-contained international trade in fish, cotton, and salt from about 1820 to 1860. But not without trouble, hardship, and loss for almost everyone involved. This economic prosperity depended, after all, on men and women sailing wooden ships out into Penobscot Bay and across the open ocean to carry merchandise to distant ports.
The motivation for this exhibit is the extensive research and writings of guest curator Richard Ames whose family history served as a catalyst for his study. The Castine Historical Society has published Ames' fully-illustrated book, Risky Business: A Maine Village Goes Global, which can be purchased here.
Funding for this project was made possible through the sponsorship of:
Majabigwaduce Chapter of the National Society Daughters of the American Revolution,
located in Brooksville, Maine
Maine Humanities Council
and
Thomas Adams and Nancy Marto
2017: Castine's Devoted Women: Partnership & Social Reform 1910-1962
2018: Castine's Devoted Women: Social Change & Public Service
The Castine Historical Society's 2017-2018 seasonal exhibits focused on the life and work of Mary W. (Molly) Dewson and her partner Mary G. (Polly) Porter.  The inspiration and primary source for the two-year exhibit was 2016 gift to the Historical Society of 28 scrapbooks. The Porter-Dewsons (as they called themselves) spent several months every year at the Porter family home in Castine, Maine, from 1912 until their retirement in the coastal Maine town in 1952.
Together they joined the final fight for women's right to vote, volunteered with the American Red Cross in WWI, and worked to improve the lives of laborers and their families.  Molly's career led her to meet Eleanor Roosevelt and become a tireless campaign organizer for Franklin D. Roosevelt.  As a friend and advisor to the Roosevelts, Molly achieved her own social reform goals through the impact of the New Deal. For example, she pushed for her colleague Frances Perkins (who also had strong ties to Maine) to be appointed as Secretary of Labor, the first female cabinet member.
The 2018 exhibit expanded to highlight other Castine women devoted to politics, social reform, public service, and women's rights.  Several themes in the exhibit reverberate in the daily news today; same-sex marriage, voting rights, minimum wages and working conditions, and the status of women in federal jobs as well as political parties.  The list of Castine women who have pursued careers in social reform and public service, as volunteers or professionals, continues to grow.
To learn more about this exhibit see the Summer 2017 and Summer 2018 editions of The Castine Visitor.
Hear two related talks by Frances Perkins Center founder Tomlin Coggeshall and  women's historian and Molly Dewson biographer Susan Ware entitled "Molly Dewson and Frances Perkins: Two Powerful Women" and "Two Lifelong Partnerships: Molly Dewson and Polly Porter, and the Historian Who Wrote About Them" by visiting our Speakers and Lectures page.
2016: Castine and L'Hermione – Celebrating History and Friendship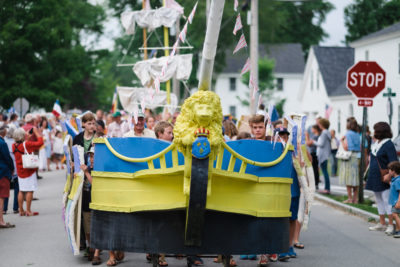 For three days in July 2015, Castine was subject to the largest invasion in its history. Not even the British invasions of 1779 and 1814 could match the number of "occupiers" who began arriving on the morning of July 14, 2015. They came, not as a hostile army, but to participate in the visit of l'Hermione–a replica of the French frigate that in 1780 brought the Marquis de Lafayette to America, bearing news of France's commitment to American independence.
The exhibit, inclusive of much of the display from 2015, featured images of the ship and crew in Castine, the celebrations, distinguished guest speakers, events and the welcoming parades both on land and at sea.
2015:  The French Frigate & the British Fort — L'Hermione & "Magabagaduce" in 1780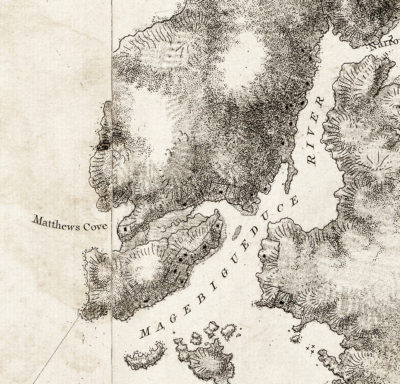 The "Magabagaduce" peninsula (Bagaduce) had been contested ground for centuries, first home to the aboriginal natives, then claimed and fortified by both the French and the British in the 17th and 18th centuries. After 1776, this isolated settlement became part of the new American nation.
By spring 1780, the British were back and had nearly finished building a new fort at Bagaduce.  Why?  And what happened when a French warship, after delivering the Marquis de Lafayette to Boston in May 1780, sailed the waters of Penobscot Bay in search of British vessels to capture?
Our exhibit featured documents from the period and presented the key people involved to reveal answers to these questions.
2014: "Mr. Madison's War" — Castine and the War of 1812
For many Americans, the War of 1812 was a "second war for independence."  They believed that the British had never really accepted the "first" war for independence, and were again seeking to make Americans subservient to King George.
Other Americans believed this was nonsense.  They blamed the war on President James Madison, called it "Mr. Madison's War," and saw it instead as a pretext for expansion into Canada. There is evidence on both sides of the controversy, even today.
On September 1, 1814 a British contingent invaded and occupied Castine. They would not leave until the following April. Our exhibit told the story of both the War and Castine's occupation.
2013: Missions and Meeting Houses, Chapels and Churches
In 2013 summer the Castine Historical Society published Missions and Meeting Houses, Chapels and Churches, Four Centuries of Faith in Castine, a collaborative publication written by Lynn Hudson Parsons.  The exhibit illustrated 400 years of local religious activity including the worship and social aspects of Castine's churches in the 19th and early 20th centuries.  The four current churches in Castine were highlighted.
From the preface of Dr. Parsons' book:
"The story of four centuries of religion in Castine is complex.  It has many characters: North American Indians, Frenchmen, Englishmen, and, eventually, Americans.   The men and women of Castine whose lives were affected by their religious convictions were also part of a greater community.  By studying them, and their places of worship, we may come to know the community better."
2012: Schooner Bowdoin on the Greenland Patrol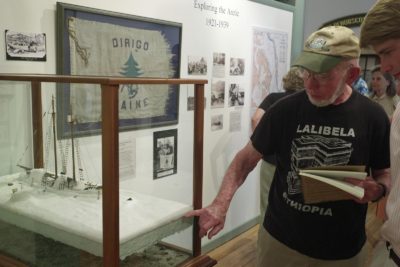 In April 1940 Germany invaded Denmark.  The United States was not then at war with Germany, but was called upon by the Danish government to protect Greenland as a strategic outpost in the North Atlantic.  On June 1, 1941, the U.S. Navy organized the "Greenland Patrol," an unconventional fleet of vessels that included the twenty-year-old schooner Bowdoin, as well as Coast Guard cutters and buoy tenders, an icebreaking tugboat, and a dozen fishing trawlers fitted for Arctic service.
The Bowdoin had been built to the specifications of Donald Baxter MacMillan, who had taken the schooner on almost annual voyages to the Arctic since it was launched in 1921.  It was "Mac" who commanded the vessel on the first expedition of the "Greenland Patrol," with a wartime crew and a new mission.
The exhibit planning was spearheaded by Peg Brandon and Betsy Reese, Visiting Curators who were then Maine Maritime Academy faculty.
2011: History & Hearsay:  Tales of Castine Homes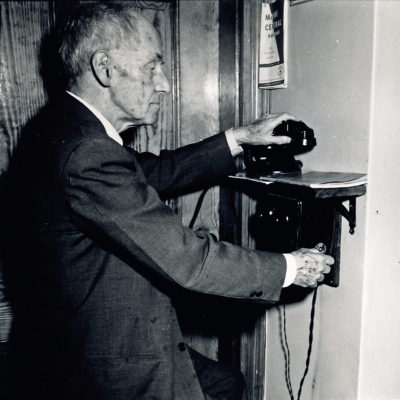 Castine is a small town with a notable and much-examined history.  We've been collecting documents and studying the land for 200 years, yet tales for which we have no written documentation have persisted down to the present day.
Some of the stories in our 2011 summer exhibit had been confirmed by archival sources contemporary to the events.  Some seemed likely but hadn't been documented.  And some of the stories were loaded with sensationalism and speculation.  We found ourselves reluctant to dismiss any of them.
The exhibit presented what people say about some aspects of Castine's history and each panel included a fact-checking commentary by our curator.