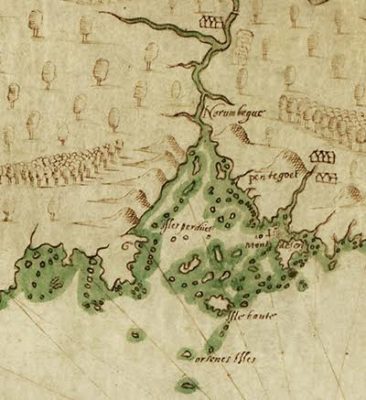 In 1607, Samuel de Champlain, the great French explorer and colonizer, sailed up the Penobscot River and wrote of the river's beauty and shoreline. Four years later Father Pierre Biard, a French Jesuit priest, met here with a group of Indians.
In the 1620s a contingent of Englishmen from the Plymouth colony on Massachusetts Bay established a trading post here in an unsuccessful attempt to block further settlement by the French.
In the 1630s the French built Fort Pentagoet (a name used by the French to describe the Penobscot River and its tributaries) here on the Bagaduce River.  The fort was part of the French attempt to maintain and extend their control over Acadia, the name given the region between the Kennebec and St. Croix Rivers.  La Tour Street is named after Charles La Tour, one of the French officials responsible for its administration.
Today Fort Pentagoet lies beneath the land next to the present Roman Catholic chapel.  In the 1980s the fort was excavated and photographed by a team of archeologists, and the site is marked by a cross.  On the well of the old fort there is a plaque recording its excavation and establishment as a national historic site.