The stately Abbott School was built by the Castine School District in 1859, in the then-fashionable Italianate Style, to function as a high school. The building also served as the Eastern State Normal School from 1867 to 1873, and closed its educational doors in 1961. The building was privately owned for several decades, and on April 29, 1994, the Castine Historical Society signed the agreement for purchase of the building.  In July of 1994, the Society, embarked on a three year campaign to raise $400,000 for the purchase and renovation of the Abbott School as the new home of the Society.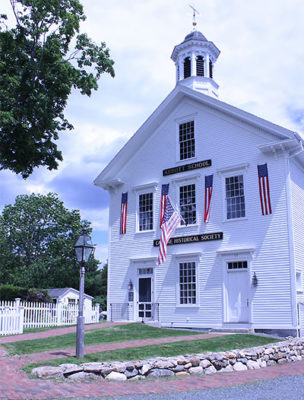 By December 31, 1994, renovations had begun, and the Abbott School's grand opening as the home of the Castine Historical Society occurred on July 1, 1996.  The building housed both exhibits and the administrative offices until 2015, when the administrative offices and archives moved to the newly restored Grindle House, located next door.
The ground floor is used for exhibitions devoted to the history of Castine which are open to the public without charge. Future plans call for expanded exhibition galleries to accommodate both permanent and changing exhibitions.
The ground floor exhibit space also houses a bathroom and has universal access.