Donate to the 2022 Annual Appeal
The Castine Historical Society has an updated mission: We make Castine history accessible, relevant, and inspiring to all. Adopted with our 2023-2025 Strategic Plan, this lofty mission is one you, our members, will help us continue to meet each and every day!
Our revised mission goes hand in hand with our new vision statement: The Castine Historical Society cultivates curiosity about our past to foster a more inclusive, empathetic, and informed society. Inside and outside our walls, we build relationships among individuals, organizations, and the community to enhance understanding of our collective experiences.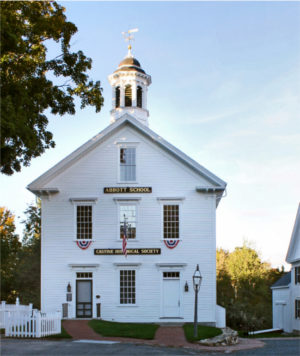 Across the country, historical societies are finding innovative ways to remain relevant and vital in their communities. As we roll out our Strategic Plan in the coming years, CHS will explore new and creative ways to use our historical exhibitions, educational programs, and collections to inform us all as citizens in today's world.
Three overarching values expressed in the Strategic Plan will guide us in achieving this goal: providing access, embracing diversity, and demonstrating quality.
Your 2022 Annual Appeal donation will help make our mission, vision, and values a reality as you help fund our 2023 exhibitions, educational programs, and collections work.
Thanks to your gifts, last year our successful Annual Appeal raised almost $38,000. Your 2022 donation will help support these mission driven programs:
Expand access to our vast Castine historical collections through an online searchable catalog available to members, the public, and to researchers around the world.
Cultivate curiosity among young people through our Castine-based history curricula with the Adams School.
Build relationships by hiring a consultant to conduct community and member stakeholder meetings and surveys about a permanent Castine history exhibit in the Abbott School.
Embrace diversity through new and exciting educational programs that will bring the history of Castine's African American citizens forward to the public.
Enhance understanding as we launch a project to research, catalog, photograph, and publicize our object, furniture, and painting collections.
Your 2022 Annual Appeal support will help the Castine Historical Society grow as a vital part of our community. Let's work together to use Castine's past to foster a more inclusive, empathetic, and informed society. We thank you for your continued and generous support.