The Castine Historical Society offers guided Walking Tours of Castine for the 2023 season!  Starting June 23, the staff and volunteers of the Historical Society will offer Castine Uncovered Walking Tours, a fun, informative, outdoor learning experience.  All tours are free of charge, but donations are greatly appreciated and can be made onsite or on our donations page. No reservations are required for the tour.
June 23-October 9:
Friday, Saturday, and Monday at 10 AM
Meet your guide in front of the Abbott School at 17 School Street, and take in the sights and sounds of Castine while learning about our beautiful town and its historical significance.  The tour takes approximately one hour, and will give you an overview of Castine's history, identify buildings of architectural significance, show you several of our beautiful Elm trees, and point out Fort George, the earthworks of a Revolutionary War British fortification.  Please wear good walking shoes!   The tour is a little over 1/2 mile long and involves some inclines.  
If you are not in Castine at one of these times and would like to set up a special tour, please call us at (207) 326-4118, or send an email to info@castinehistoricalsociety.org.  Special tours are offered 7 days a week through the season, but must be arranged a minimum of 48 hours in advance.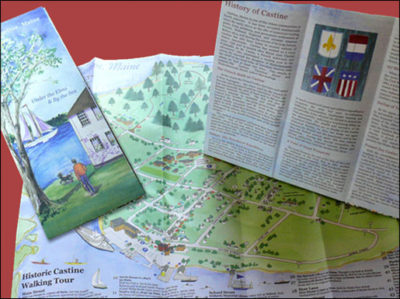 If you prefer to explore on your own, pick up a copy of Castine's free walking map at the Castine Historical Society. Included in the map is a detailed walking tour that takes you around Castine's picturesque village as you learn more about history, architecture, and the people of Castine, past and present. Maps and brochures are located in a brochure rack outside the Abbott School at 17 School Street.
Or, take the exciting Castine Virtual Tour which you can download for free onto your phone. You can take a unique self-guided tour of the town visiting many of our best historic sites!
Enjoy your time in Castine!
If you are unable to attend a walking tour but still want a guide to the sites around Castine, please check out our Castine Virtual Tour for an electronic tour of Castine.