Due to the Coronavirus, all events are subject to postponement or cancellation.  Please continue to check back, watch our Facebook page, or sign up for our e-blast communications to get up-to-date information on opening day, postponements, or cancellations. We thank you for your understanding. In the meantime, learn more about Castine by taking our Castine History Virtual Tour. 
The Castine Historical Society offers guided Walking Tours of Castine during the summer season.  Tours begin every Saturday at 10 AM in front of the Abbott School at 17 School Street or by appointment, and are offered at no cost.
Saturday tour dates for 2020 are:
July 11, 18, and 25
August 1, 8, 15, 22, and 29
Meet your guide in front of the Abbott School, and take in the sights and sounds of Castine while learning about our beautiful town and its historical significance.  The tour takes approximately one hour, and will give you an overview of Castine's history, identify buildings of architectural significance, show you several of our beautiful Elm trees, and point out Fort George, the earthworks of a Revolutionary War British fortification.
If you are not in Castine on a Saturday but would still like to go on one our tours, we are happy to set up an appointment.  Our tours can also be geared toward your specific interest in an aspect of Castine history.  To make an appointment, please call us at (207) 326-4118, or send an email to info@castinehistoricalsociety.org.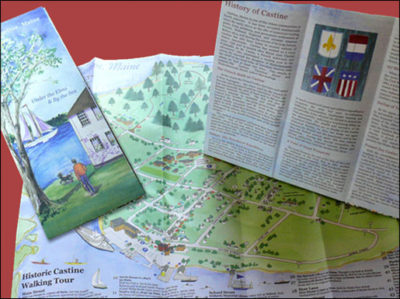 If you prefer to explore on your own, pick up a copy of Castine's free walking map at the Castine Historical Society. Included in the map is a detailed walking tour that takes you around Castine's picturesque village as you learn more about history, architecture, and the people of Castine, past and present. Enjoy your time in Castine!
If you are unable to attend a walking tour but still want a guide to the sites around Castine, please check out our Castine Virtual Tour for an electronic tour of Castine.