The Castine Historical Society offers easy access to local history in the Grindle House and neighboring Abbott School. Researchers, geneaologists, residents, visitors, members, and students are invited to delve into our collection of books, photographs, maps, diaries, and assorted papers documenting the history of the Bagaduce and Penobscot Rivers Region.
In 1849 Samuel P. Grindle, a ship carpenter, purchased a parcel of land fronting on the Castine Town Common. The following summer he constructed a house in the Greek Revival Style which remained in private hands until acquired in 2008 by the Castine Historical Society. The acquisition, subsequent restoration, and expansion were made possible by the generous bequest of Deborah Pulliam who was devoted to the cultural life of Castine and its historic architecture.
The restoration involved shifting the Grindle House off its crumbling foundation to permit the pouring of a secure, reinforced concrete base which was then faced with the original granite.  With the house comfortably settled back in place, a new addition in the form of a traditional two-story Maine barn was added to the rear. The walls, floors and ceilings of the addition were constructed of steel reinforced concrete to create a fireproof, high-security, temperature and humidity-controlled archival storage facility fitted with high-density, mobile shelving that doubles the capacity over normal fixed shelving. The new "barn" is clad in clapboards, fitted with blind windows and a barn door that blends with the architecture of the surrounding buildings.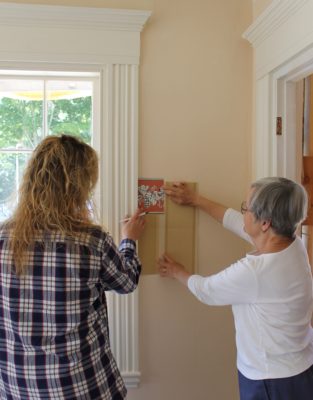 Working from nineteenth-century photographs and physical evidence, the exterior of the Grindle House was restored to its 1850's appearance; chimneys were rebuilt, six-over-six light window sash and shutters installed, and the original front doorway surround recreated. A bay window on the south façade dating from the late nineteenth century was preserved.
The restored Grindle House is not interpreted as a house museum.  Nonetheless, the lighting fixtures and decorative window, wall, and floor coverings of the center stair hall and the two parlors facing the Commons are decorated following the design precepts of Andrew Jackson Downing (1815-1852).  Documented mid-nineteenth-century wallpapers, carpets, a painted floor cloth, and lighting have been recreated and installed.  One parlor is a light-filled, comfortable research reading room and the other parlor is used for small exhibitions.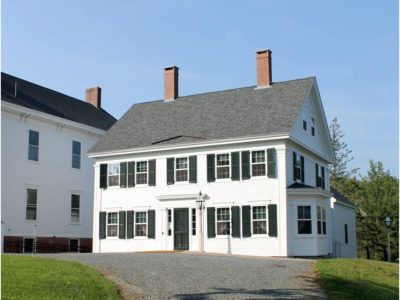 Mechanically the Grindle House is now an efficient, twenty-first century building. Heating, cooling, and humidity control are provided by a geothermal system, the electrical, security, and life safety systems meet modern codes, all window glass filters ultraviolet rays, and the ground floor reading room, exhibition gallery, and restrooms are handicapped accessible. The house is open to the public for research (by appointment) and houses a small summer exhibition.
In November 2017, the Grindle House received the coveted Maine Preservation Honor Award, which recognizes excellence in historic preservation throughout the state.