The 2022 House & Garden Tour is now being held on July 22, 2022.
Please click HERE for more information about the tour.
The Castine Historical Society is proud to present the 2022 Castine House & Garden Tour on July 22, 2022 from 10 AM-4 PM, featuring ten beautiful homes and six gracious gardens all located within the town village. Tour tickets are $45 through July 10, and $50 beginning July 11 through the day of the event.
With history dating back to the 1600s, Castine has been home to many: Native Americans, French, Dutch, English and Colonial Americans. Castine is named after Baron Jean Vincent de Saint Castin, a French nobleman and officer. Its strategic peninsula location at the mouth of the Penobscot River made it highly desirable. The town once served as the seat of Hancock County, a merchant port for coastal trading, and a center for shipbuilding.
With growth and prosperity during the 19th century, grand Federal, Georgian, Greek Revival and Victorian style homes were built. These stately homes along with charming summer cottages still grace shady elm-lined streets.
Castine's rich history presents a perfect opportunity to commemorate Maine's bicentennial. A number of Castine homes were built in or before 1820, and thanks to the extreme generosity of their homeowners, nine of these homes along with five gardens will be featured on the tour.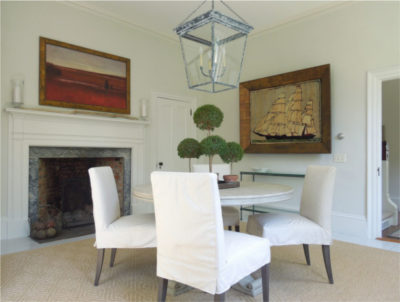 Seaside Castine is one of the oldest towns in Maine and, according to Down East and Yankee magazines, it is also one of the prettiest. We hope you will join us!