Due to the Coronavirus, the 2020 House and Garden Tour has been postponed to
July 21, 2021.
Please click HERE for more information about the tour.
The Castine Historical Society archives document House and Garden Tours being held as far back as 1924.  A tradition in Castine for almost a century, they provide a unique opportunity for history, architecture, maritime and horticultural buffs alike to experience the delights of an almost island-like seaside village where time seems to have stood still.
Previous tours have offered views of up to 18 properties in Castine, as elegant and artful homes ranging from early federal to the modern era share the stage with gardens meant to inspire and delight the senses. These properties have included the 1850 Samuel P. Grindle House, the 1763 John Perkins House, and the Dyce's Head Lighthouse, as well as a number of privately owned homes. These tours represent a rare opportunity to view the inside of these historic homes, which have been lovingly maintained by their owners.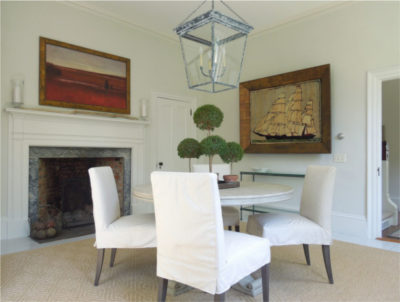 Thanks to the support of hundreds of Castine volunteers, homeowners, and organizations, over 1,000 tickets were sold to the 2016 Tour. The success of these tours is a testament to the generosity and the collaborative spirit of the town of Castine and its residents.