Date: Sunday, July 14, 2019
Time: 10:00 am - 2:00 pm
In town for Castine's Bastille Day Celebration?  Join us on Saturday, July 13 from 11:00 AM-3 PM and Sunday, July 14 from 10 AM-2 PM for a special shopping event at the Castine Inn, located at 33 Main Street.  This event is hosted by the Castine Historical Society, and features clothing by J. McLaughlin.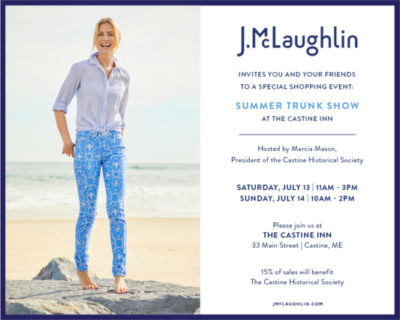 Founded in 1977 by brothers Jay & Kevin McLaughlin, J.McLaughlin is a modern classic American sportswear and accessories brand for men and women recognized for a distinctive flair for color and signature portfolio of prints.
15% of all sales will benefit the Castine Historical Society.  We hope you'll join us!