September 8 & 9, 2018
Friends of Castine Fortifications present: 
"1779 – 1783 Fort George – Disputed Territory"
All events and programs are free of charge.
After a successful inaugural year in 2017, for 2018 we are continuing to show the importance of Fort George – check out last years exciting programs by clicking HERE.
Calling All History Enthusiasts!  Click HERE to experience the 18th century firsthand!
Calling all teachers!  Click HERE to learn how to receive CEU credits!
Fort George in Castine is on the National Register of Historic Places due to the important role it played in the American Revolution and later in the War of 1812.
On the weekend of September 8 & 9, 2018, volunteers at Fort George and Castine will show us what life may have been like between 1779 and 1783 while Crown troops protected the Loyalists who had moved to the area believing that the Penobscot was going to be the border between the new United States of America and British North America.
Visitors will be able to see and meet volunteer reenactors who will portray the Scottish, British and Hessian troops stationed at Fort George. Also attending will be reenactors portraying the Loyalist families living in Castine during this period.
Additional events scheduled for the weekend include:
Saturday, Sept. 8 at 4:00 pm
Maine Maritime Academy, 1954 Room, Alfond Student Center, 2 Pleasant Street
"Jonathan Lowder's Truckhouse on the Maine Frontier 1776-1779"Historian Charles Lagerbom will talk about the history, building, occupation, post-occupation and archaeological investigation of an American Revolutionary War Trading Post on the Colonial Maine Frontier.
 Saturday, Sept. 8 at 7:00 pm
Emerson Hall, 67 Court Street
"Fort George in "Hessian" correspondence of the American Revolution."Who were the German troops at Fort George and what were their experiences at this British outpost in the American Revolution?
For additional details, please view our press release HERE.
To sign up for our mailing list, please click HERE.
In Cooperation with:
Fashion and Food of the American Revolution
Wednesday, August 15, 5:00 pm
The Hutchins Education Center of the Wilson Museum
120 Perkins Street, Castine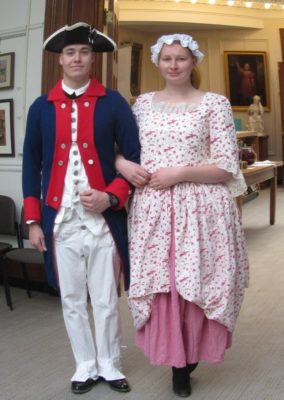 Come enjoy an afternoon of fashion and food from the American Revolution.  Reenactors will model and discuss uniforms of the Scottish troops stationed at Castine's Fort George from 1779-1783. Others will show the uniforms of the Hessian soldier and British Redcoats stationed at the Fort from 1782-1783. Civilian clothing of the period will also be modeled to show what citizens of Castine would have been wearing during the British occupation. Attendees will also get to sample cakes made from 18th century Scottish, German and Colonial American recipes.
The event is free, but donations are gratefully accepted to support the programming at Fort George as planned by the Friends of Castine Fortifications.  Check out the information about this year's event above!