"The most beautiful picnic setting I have ever experienced.  Lovely garden in front of a historic home overlooking the  scenic harbour.   Heavenly."  -Kathleen B
Who doesn't love a mystery?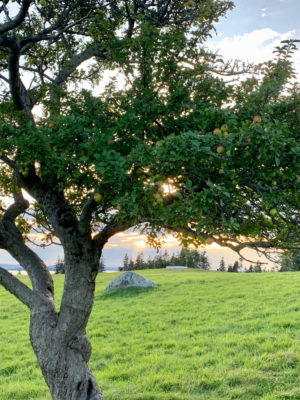 Buy a mystery picnic pass to one of several exceptional Castine private backyard settings where you will have the view all to yourself and enjoy your BYO picnic for your own group of up to 4 people. You pick the date in advance and we will surprise you with the venue on the morning of your picnic. It promises to be a unique opportunity to enjoy some of the most stunning scenery in Castine!
Pick any day, with a backup rain date, from July 1 through September 30, 2020.
Choose a 2 hour time slot
One pass covers 4 people maximum for one private picnic experience
All picnics are "Carry in, carry out."
Bring your own picnic, beverages, and seating/blanket.
No restrooms available.
No smoking, no pets allowed.
You will be contacted on the day of your picnic with your mystery location!
Grab food for your picnic at one of the stores in Castine, including Windmill Hill, MarKels, Captains Catch, Castine Variety, T&C Market, and cold brew coffee at Compass Rose Books.
You're going to need picnic supplies and tableware!  Check out Mary Margaret's Merchantile for picnic blankets and picnic supplies, or our Meri Meri picnic supplies at the Castine Historical Society's online gift shop in the House and Home section. You can purchase plates, cups, napkins, and straws.  We even have cupcake kits!  We can deliver your purchase in Castine or arrange for onsite pick up.
The $50 picnic pass is a fully tax-deductible donation to the Castine Historical Society.  Use the PayPal link below to process payment, followed by giving us your requested date, time, and other information.  Buy several passes to experience different locations, or to give as gifts!
Once you purchase your pass, please click on the "return to the Castine Historical Society" link to be taken to the registration page!