June 29th, 2023
The Castine Historical Society continues with its 2023 education series, "Hidden Legacies: Uncovering Castine's African American History", that tells the untold stories of African Americans in Castine and Maine. The next lecture in the series, which is free, takes place on Tuesday, July 11 at 5:30 p.m. when Pamela Cummings, Board Chair of Portland's Abyssinian Meeting House, will give a talk entitled "Portland's Abyssinian Meeting House and Its Ties to the Underground Railroad." The talk will be held on the second floor of Emerson Hall, 67 Court Street, Castine. For those unable to attend the in-person talk, the lecture will also be available via Zoom. To register for a Zoom link, please visit castinehistoricalsociety.org or call the office at 207-326-4118. The series is funded by the Maine Humanities Council.
In her presentation, Ms. Cummings will talk about Portland's African American meeting house, a National Historic Registry site located at 75 Newbury Street in Portland. Built in 1828 it was the historical, religious, educational, and cultural center of Portland's 19th-century African American community. It has a unique tie to Castine as one of its founders and deacons, Abraham Niles, was born, raised, and educated in Castine before moving to Portland to continue his career as a sailor.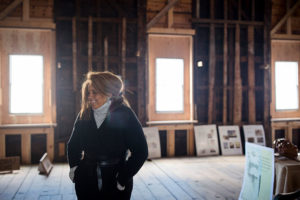 Cummings will talk about the history of the Meeting House and its ties to the Underground Railroad. Because of its easy access by rail and sea, Portland developed as one of the northernmost hubs of the Underground Railroad, the last stop before legal freedom outside the country. When the Fugitive Slave Act of 1850 was passed, it allowed slave owners and their agents to track down freedom seekers in the North and return them to slavery. Portland's black and white activists reacted, providing safe houses and helping to organize escape routes to England and Canada.
Despite the trepidation of some members, The Abyssinian Meeting House was closely associated with the Underground Railroad and with local abolitionist activity. Leaders and members of the Abyssinian Church actively participated in concealing, supplying, and transporting refugees from slavery, as recounted in slave narratives and oral traditions.
Pam Cummings was born and raised in Portland. Ms. Cummings serves as President and Director of Educational Programs at The Abyssinian Meeting House. She has over 20 years of experience in identifying and cultivating partnerships with local business leaders, fundraising, and event planning.
 The Castine Historical Society makes Castine history accessible, relevant, and inspiring to all. The Historical Society preserves local history and hosts permanent and temporary exhibitions as well as lectures, educational events, and town walking tours. Currently on display for the 2023 season in the Abbott School gallery at 17 School Street is "Clark Fitz-Gerald: Castine's Celebrated Sculptor-in-Residence." The Grindle House offices, collection facility, and research library are located at 13 School Street, Castine.
The Historical Society exhibits are free and open from June 5 – September 4, Monday – Saturday, 10 a.m. – 4 p.m.; Sunday, 1-4 p.m. Fall hours are September 8 – October 9, Friday, Saturday, Monday, 10 a.m. – 4 p.m.; Sunday, 1-4 p.m. Free one-hour walking tours of Castine are offered Friday, Saturday, and Monday at 10:00 a.m. through October 9. For further information about exhibits, events, and the Historical Society visit castinehistoricalsociety.org, call 207-326-4118, or email info@castinehistoricalsociety.org.