June 7th, 2022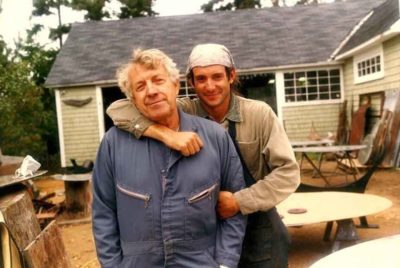 The Castine Historical Society will host an illustrated talk given by Stephen Fitz-Gerald on Thursday, June 23 at 5:30 p.m. in Emerson Hall, 67 Court Street, Castine: . Fitz-Gerald will talk about the life and career of his father, the noted sculptor Clark Fitz-Gerald (1917-2004). The event is part of a series of educational programs that accompanies the Historical Society's 2022 seasonal exhibit, Clark Fitz-Gerald: Castine's Celebrated Sculptor-in-Residence.
Clark Fitz-Gerald achieved regional, national, and international renown for his sculptures. After serving in World War II and then teaching in various schools, Fitz-Gerald moved to Castine to devote himself to his sculpting career. His works include many important public commissions for monumental sculptures in cities all over the country and even abroad, including Philadelphia, Cincinnati, St. Louis, and Coventry, England. He became known for works inspired by the Bible, myth, science, the natural world, and the human form.
Speaker Stephen Fitz-Gerald, himself an accomplished artist who grew up in Castine, now lives in California. He creates life-size figurative sculptures, decorative arts, jewelry, and large-scale site-specific outdoor structures. Fitz-Gerald serves as curatorial advisor for the exhibit.
The Castine Historical Society serves as a window into Castine's extraordinary past. The Historical Society preserves local history and hosts permanent and temporary exhibitions as well as lectures, education events, town walking tours, and house and garden tours. Exhibits are on display in its Abbott School gallery at 17 School Street, Castine. The Grindle House offices and research library are located at 13 School Street, Castine. To set up a research appointment, email curator@castinehistoricalsociety.org.
The Historical Society exhibits are free and open June 6 – September 5, Monday – Saturday, 10 – 4; Sunday, 1-4. Fall hours are September 9 – October 10, Friday, Saturday, Monday, 10 – 4; Sunday, 1-4. Free one-hour walking tours of Castine are offered Friday, Saturday, and Monday at 10:00. For further information about exhibits, events, and the Historical Society visit castinehistoricalsociety.org, call 207-326-4118, or email info@castinehistoricalsociety.org.