July 7th, 2020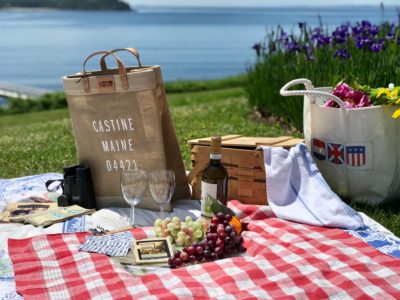 The Castine Historical Society has come up with a unique new fundraiser for the 2020 season. Buy a mystery picnic pass to one of several exceptional Castine private backyard settings where you will have the view all to yourself and enjoy your BYO picnic for your own group of up to 4 people. You pick the date in advance and the Historical Society will surprise you with the venue on the morning of your picnic. It promises to be a unique opportunity to enjoy some of the most stunning scenery in Castine while raising funds for the Castine Historical Society.
Picnic passes, which are good from now through September 30, 2020, are available for a $50 donation. They can be purchased online at castinehistoricalsociety.org or by calling 207-326-4118. When you make your donation, you will be asked to select your picnic day, time, and a backup rain date.
Picnic goers are encouraged to shop locally for their picnic food at any of these Castine stores  including MarKel's Bakehouse, Windmill Hill Gardens and Market, The Captain's Catch, the Castine Variety, T&C Market, and the café at Compass Rose Books.
The exhibits of the Castine Historical Society are closed for the 2020 season. Instead, Castine Uncovered Walking Tours are being offered on a regularly scheduled basis. These free, one-hour tours reveal Castine's many layers of rich history, while sharing stories of the people and places of Castine's past. To see the tour schedule and learn more visit castinehistoricalsociety.org.
The Castine Historical Society seeks to invigorate Castine through collaborative exploration and stewardship of our region's rich history, engaging residents and visitors of all ages in Castine's extraordinary past and, through it, that of New England and North America. For further information on the Castine Historical Society visit www.castinehistoricalsociety.org or call 207-326-4118.