A talk via Zoom by Meadow Dibble and Erika Arthur of the Place Justice Project.  Funded by the Maine Humanities Council.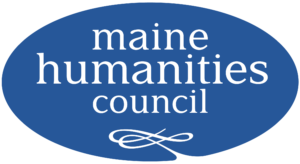 Who gets memorialized through place names, statues, and historical markers is a strong indicator of a society's values and its dominant sense of collective identity. The Permanent Commission on the Status of Racial, Indigenous, and Tribal Populations has launched a Place Justice Project that seeks to engage Wabanaki and Maine communities in examining a wide range of commemorative practices to better understand and respond to the ways in which racialized and Indigenous populations are represented in or absent from the narratives inscribed on our natural and built environment. Whose memory is visible and celebrated, and whose has been erased or misrepresented? How do the politics and practices of public remembrance and forgetting continue to impact our communities today?
Meadow Dibble, Ph.D. works for the Place Justice Project of the Permanent Commission on the Status of Racial, Indigenous, and Tribal Populations established by the Maine Legislature. She is the founding Director of Atlantic Black Box and a Visiting Scholar at Brown University's Center for the Study of Slavery and Justice.
Erika Arthur works in both the Justice Policy and Children, Youth, & Families program areas at the Catherine Cutler Institute. She has been staff on the Violence Against Women Act Measuring Effectiveness Initiative (VAWA MEI) and the Child Welfare Cooperative Project, and most recently with the Place Justice Project of the Permanent Commission.
---
Thank you for your interest in our programs! While the event is free, we hope you will consider a donation to help meet our mission to make Castine history accessible, relevant, and inspiring to all.
To attend this Zoom talk, preregister using the form below. After registering, you will see a confirmation page indicating that your registration was successful and you will receive a confirmation email.
The Zoom link for the talk will be sent to the email address included in the form below and will arrive on the day of the event. In some cases, you may need to check your spam folder or filter settings to make sure you can accept emails from admin@castinehistoricalsociety.org.
Registration
Registration is closed for this event.