Due to the Coronavirus, all events are subject to postponement or cancellation.  Please continue to check back, watch our Facebook page, or sign up for our e-blast communications to get up-to-date information on opening day, postponements, or cancellations. We thank you for your understanding. In the meantime, learn more about Castine by taking our Castine History Virtual Tour. 
Everyone is welcome at the Castine Historical Society's Annual Meeting!
The Castine Historical Society Annual Meeting and program will take place Thursday, August 20 from 4-5:30 PM at the Unitarian Universalist Meeting House located at 86 Court Street.  After a brief business meeting, Maine Maritime Academy instructor Captain Richard F. Miller will present a talk entitled "The Square Rigged Ship: Form & Function – Then and Now."  The meeting and program are free and open to the public.
Captain Richard (Rick) Miller is an Associate Professor and Department Chair of Marine Transportation at Maine Maritime Academy in Castine, Maine. His classes of instruction include Terrestrial Navigation (Coastal Piloting), Celestial Navigation, Seamanship, Electronic Navigation, Meteorology, and Marine Weather Routing. Rick earned his bachelor degree from Springfield College and a Master of Science in Education from Capella University. He has successfully blended his academic training as an educator with his passion for sailing for more than 40 years, sailing on a number of sail training vessels and with the Hurricane Island Outward Bound School. In 2008 he was master aboard Maine Maritime Academy's schooner Bowdoin for a training expedition to the Arctic along the west coast of Greenland. Rick continues to be active as a mariner, sailing seasonally as a master of vessels transiting Pacific and Atlantic basins.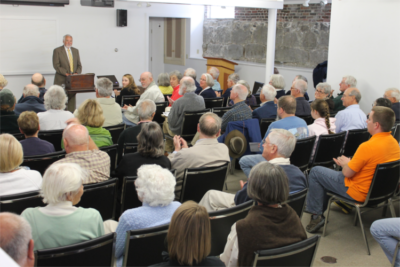 Each year, the Castine Historical Society holds its Annual Meeting and Program in August.  After a brief business meeting, a guest speaker will give a short talk.  The meeting is open to the public as well as members of the Castine Historical Society, and anyone who has an interest in the Society is encouraged to attend.  Light refreshments will be served.
Previous speakers have included:
Lee Smith, writer and Castine summer resident
Lynn Parsons, Castine Historian
Peter Davis, Castine resident and award winning author and filmmaker
Gail Caskey Winkler, specialist in the documentation and recreation of historic interiors