August 5th, 2019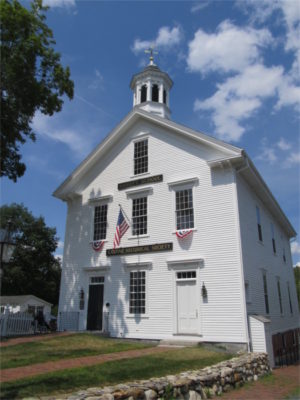 Castine, Maine: The Castine Historical Society is the caretaker of two historic buildings on Castine's Town Common. The Abbott School is one of those buildings. The school, which the Society bought in 1994, houses the Society's permanent and temporary exhibits. Each year several thousand visitors from around the world come to the Abbott School to view the Historical Society's newest exhibits and to learn more about Castine's colorful history.
Preserving a building of the Abbott School's size and historic importance is an expensive undertaking, but one that the Historical Society takes very seriously. The school was built in 1859 to help alleviate crowding in Castine's Adam School, also on the Town Common. From 1867-1873, the Abbott School was the original location of the Eastern State Normal School, a teacher's college in Castine until World War II. From 1873-1961, the Abbott School was Castine's High School. Last year, the Historical Society raised funds to paint the school's façade, window trim, ornate cupula, and south facing wall. The total cost for this project is over $30,000. Thanks to grants and private donations, the Society raised much of the money and will complete the project this summer.
The funds came from multiple sources. The Historical Society received a grant for $11,715 from the Davis Family Foundation. In addition, a grant for $10,000 came from the Belvedere Historical Preservation fund of the Maine Community Foundation. Private donors provided additional funds to assist with the project. Thanks to the generosity of these granting organizations and individuals, the historic Abbott School will be preserved for future generations. Executive Director Lisa Simpson Lutts remarked, "Long term preservation of this important historic structure that served such a vital role in Castine's history is of utmost importance to the Castine Historical Society. We are proud to have undertaken this large project and thank all those that enabled the project to be completed."
The Castine Historical Society serves as a window into Castine's extraordinary past. The Historical Society preserves local history and hosts permanent and seasonal exhibitions in its Abbot School gallery located at 17 School Street, Castine. It also hosts lectures, walking tours of the town, house and garden tours, and historic reenactments. The Grindle House offices and research library located at 13 School Street, Castine are open year-round and researchers are welcome by appointment. The Historical Society is open daily Monday – Saturday, 10-4; Sunday, 1-4 through September 2. Fall hours are September 6 – October 14, Friday, Saturday, Monday, 10-4; Sunday, 1-4. For more information visit castinehistoricalsociety.org, call 207-326-4118, or email info@castinehistoricalsociety.org .