The Castine Historical Society continues to follow the state of Maine's Covid guidelines.  While our offices remain closed to visitors, staff are onsite working Monday-Friday. Please continue to check our 2021 Season Updates page, follow us on Facebook, or sign up for our e-blast communications to get up-to-date information on the 2021 season.  Thank you for your understanding. In the meantime, learn more about Castine by taking our Castine History Virtual Tour.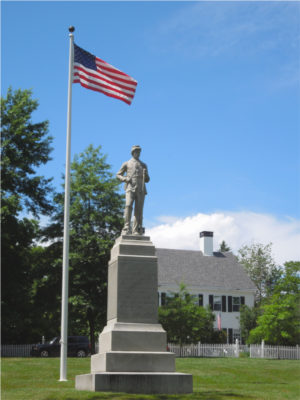 The Castine Historical Society is offering a new tour option for residents and visitors to Castine who might not be able to participate in our regular walking tours.  For those visitors we offer our Castine Uncovered TOWN COMMON tour, in which attendees will be seated on folding chairs in the shade while the guide provides them with a history of Castine documented in the eight buildings on the Common.  Meet your guide at the Abbott School at 17 School Street and we will get you settled!
Thanks to the importance of the structures on the Town Common, as well as their remarkable preservation, the tour uncovers the sweep of Castine's history. The tour looks at history no longer visible, such as the Hancock County Courthouse, the jail, and the tannery. It also delves into the history of the remaining structures from the earliest house on the Common dating from the American Revolution up to how the structures on the Common are used today including a church, library, school, homes, and the Historical Society.
Beginning June 19, the free Town Common tours will be held at 2 PM every other Saturday through August 28. 
June 19
July 3rd
July 17
July 31
August 14
August 28
All tours are free of charge, but donations are greatly appreciated and can be made onsite or on our donations page.  For those unable to make the scheduled tour times, private tours can be arranged with 48-hour notice subject to guide availability.
We look forward to seeing you!