Date: Sunday, September 20, 2020
Time: 2:00 pm - 3:00 pm
The Castine Historical Society is offering residents and visitors to this quintessential Maine coastal village a new way of learning about Castine's multi-layered history. Starting July 8, the staff and volunteers of the Historical Society will offer Castine Uncovered Walking Tours, a fun, informative, outdoor learning experience.
The free hour-long walking tours will be offered:
From September 9 – October 11, Wednesday – Saturday at 10:00 a.m. and Sunday at 2:00 p.m.
July 8 – September 6, Wednesday –Saturday at 10:00 a.m. and 4:00 p.m. and Sunday at 2:00 p.m.
While the tours are free, donations will be gladly accepted. No public restrooms will be available during the walking tour; however, restrooms are available at the Castine Town Docks. To promote a safe experience for everyone, tours will be limited to ten people and everyone including the tour guide will be require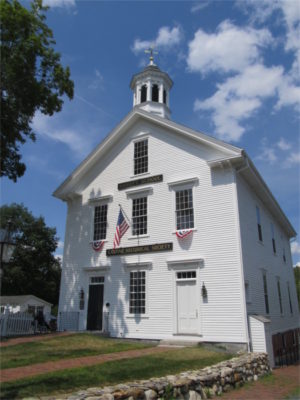 d to wear masks. The guide will have an amplification system to allow the group to easily hear the tour, which begins and ends in front of the Castine Historical Society's Abbott School Building at 17 School Street.
For those unable to make the scheduled tour times, private tours can be arranged with 48 hours notice subject to guide availability. Those with mobility concerns are encouraged to book an outdoor seated tour on the Castine Town Common. On rainy days in lieu of the scheduled tour, the staff will offer a 45-minute illustrated talk on Castine's maritime history in the Mitchell Room of the Abbott School. These talks are scheduled at the same time as the walking tours and will be limited to ten people. Masks will be required and seating will be set up for social distancing.
For more information, please check out our Walking Tour page .  To arrange a private tour, please contact us at (207) 326-4118 or info@castinehistoricalsociety.org.  We look forward to seeing you!