The Castine Historical Society offers a graduate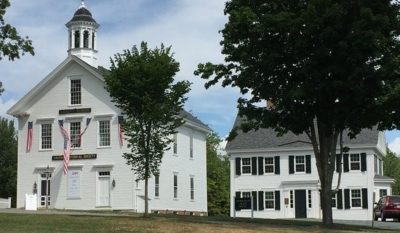 level internship for students enrolled in master's degree or Ph.D. programs in museum studies, history, public history, or archival studies. The internship contract is for eight weeks at 35 hours/week, and is compensated with a $3,000 stipend. The start date is flexible between June 20 and July 5, 2022.
Castine is a small, coastal village that is home to the Maine Maritime Academy and a year-round population of 1,400 people which nearly doubles in the summer. It is part of the unceded territory of the Penobscot and Passamaquoddy tribes, located where the Penobscot and Bagaduce Rivers meet on the Maine coast. Europeans built trading posts in the early 1600s and political claims to the peninsula and its deep, secure harbor remained contentious from that time through the War of 1812. Development in the nineteenth and twentieth centuries represents a microcosm of American commercial and cultural history.
The Historical Society occupies two historic buildings on Castine's town common and is a 501(c)(3) membership organization with a paid staff of three and an active volunteer Board of Directors. Changing and permanent exhibits are hosted in the 1859 Abbott School. In 2015, the Society completed construction of a climate-controlled, fireproof storage facility, research center, and administrative offices located next door in its restored c. 1850 Grindle House.
This internship is designed to give graduate students an opportunity to gain experience with professional staff in a local history setting. In addition to the projects outlined below, the intern will participate in the day-to-day activities of the Castine Historical Society, attending staff and Board meetings as well as programs and fundraising events. No previous experience is needed. The Historical Society's curator works with the student to structure the internship to meet requirements for academic credit as needed. While the internship will take place mostly on weekdays, some weekend hours are required.
The Historical Society will provide the intern with information on rental options for housing.
Projects
Collections
The Historical Society's collections are at the core of its mission and programs. The collections include a broad array of archival records, photographs and objects. There are consequently a number of potential projects for the intern to focus on depending on their area of interest, mainly including processing archival collections and creating associated finding aids, cataloging and digitizing photography collections, and/or labeling and cataloging 3D object collections in Past Perfect Web Edition. Depending on the desired outcome, the internship could focus specifically on one of these areas, or combine them to obtain a broader overview. Additionally, there is an opportunity to create and curate a small exhibition of materials at the local Witherle Memorial Library.
Walking Tour Program
The Castine Historical Society also provides free public tours of Castine history and private tours by appointment. The intern will join a small group of volunteers who give these tours. Resources and time to study Castine's history are built into the first week of the internship. As well, the intern will shadow a volunteer guide and practice his/her tour before being the guide.
A Successful Candidate Will:
Be currently enrolled in a history, museum, or archives related graduate program
Show sincere interest in documenting and sharing local history
Demonstrate proven attention to detail
Possess social skills for working with staff and volunteers
Work well independently and as part of a team
Display professional behavior and a customer service attitude
To Apply
Send the following materials by Wednesday, April 20, 2022, to Jules Thomson via email at curator@castinehistoricalsociety.org (please include the word "internship" in the subject line) or by post to Castine Historical Society, P.O. Box 238, Castine, Maine 04421.
Cover letter describing your

Need for the experience offered by this internship
Course of study including internship requirements
Availability (start date is flexible between June 20 and July 5)

Résumé summarizing work experience and education
Letter of support from a faculty member in your graduate program
Names and contact information for two references from previous work or volunteer experiences.
Interviews will be conducted virtually via Zoom.
The Castine Historical Society is committed to fostering equity and inclusion in the public history and information science fields. We strongly encourage members of traditionally underrepresented communities to apply.