Donate to the 2021 Annual Appeal
If you could write a letter to your great-grandchildren, how would you begin? You might tell them about the moon landing, your first car, how you met your spouse, or where you were on 9/11. It might be a difficult letter to write, but I'm sure you'll agree sharing your story or the heritage of your family with a new generation is vitally important.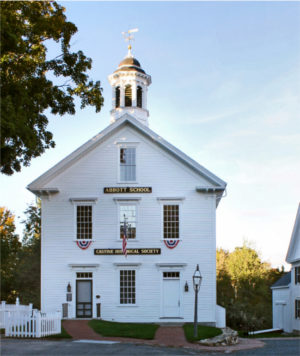 Sharing the stories and history of Castine is the core mission of the Castine Historical Society. When our organization was founded fifty-six years ago, Castine residents like you embraced its mission to steward and share the history of our community. And members and donors like you also helped lead the way in 1995 when we restored and opened the Abbott School for exhibitions, and again in 2015, when we restored the Grindle House to provide offices, a research library, and state-of-the-art collections storage.
With your support, we can continue the vital work of preserving and sharing Castine's history—let's keep the momentum going!
Every dollar makes a difference as we inspire the next generation to take the lead and become stewards of our local history. The Castine Historical Society's Annual Appeal raises unrestricted funds that allow us to invest your gift where it matters most.
Last year our successful Annual Appeal raised almost $34,000. Your 2021 gift will support:
Curating a new 2022 exhibition on Castine sculptor, Clark Fitz-Gerald
Designing a Castine-based history curriculum with the Adams School
Processing new archival documents and artifacts related to Castine's history
Expanding our research into Castine's vibrant African American community
Continuing our popular historic walking tours of Castine
Working with other Castine institutions to re-envision the future of Fort George
The Castine Historical Society is a vital part of our community. We are committed to pursuing new ways to preserve and share our heritage and to collaborate with other town institutions in doing so for the benefit of all. You can give the stories of our past a future through your gift to the 2021 Annual Appeal. Please join us in giving generously.