The Castine Historical Society's 2017 Summer Exhibit, Castine's Devoted Women: Partnership and Social Reform 1910-1962, is focused on the lives of Mary W. (Molly) Dewson and Mary G. (Polly) Porter who were life-partners during an age of progressive change in women's lives in an era encompassing woman's right to vote, World War I, labor and wage reform, and feminism. The recent gift to the Society of 28 scrapbooks kept by Molly and Polly has provided a wealth of material for the exhibit. We are extremely grateful to Molly's great niece, who generously donated these treasured scrapbooks, many of which are also preserved on microfilm at the Schlesinger Library, Radcliffe Institute, Harvard College.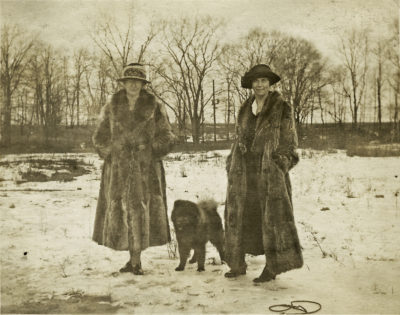 An outline for the exhibit was created by CHS intern Lorna Stephens and is based on her extensive historical research into the work and lives of the Porter-Dewsons (as they called themselves). The story of the two women over their 50-year partnership is told through their words and those of their contemporaries taken from newspaper clippings, letters and memoirs. Exhibit committee volunteers spent many hours searching through the pages of all 28 scrapbooks to select the most appropriate images to highlight the story. Then, working closely with curator Paige Lilly and exhibit designer Marti Brill, they converted the outline into historical panels, which have striking relevance to today'social and political culture.
Molly Dewson was one of the first women to have national political power and influence in Washington D.C. She earned the respect and friendship of many high profile political figures including Franklin and Eleanor Roosevelt during her work for social reform and women's equality.
Moss Acre, located i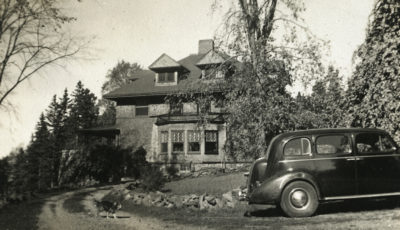 n Castine, ME, was built by Polly's father in the 1890's as a seasonal home and refuge. Molly and Polly spent several months of the year in Castine beginning in 1912 and Moss Acre became their permanent home after Molly's retirement in 1952.
We are confident that this exhibit will appeal to anyone with interests in women's history, 20 th century U.S. politics, World War I, and life in Castine. The Society invites you to become immersed in the lives of Molly Dewson and Polly Porter during the early twentieth century.